The Sport Census serves as the leading source of quality data about welfare and wellbeing in sport.
---
About The Sports Census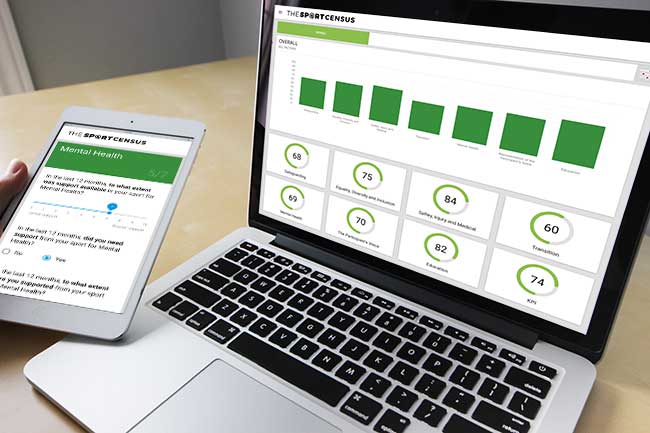 Our simple, online tool helps sports institutions, organizations, systems and leagues get comprehensive data across 7 key areas quickly. This data, supplied in confidential state-of-the-art dashboard reporting, will:
enable informed decision-making
positively impact action
support recruitment, retention and sustainability
Annual updating will help you track trends and identify your next steps for how to further enhance welfare and wellbeing in your sport. Given the growing awareness and increasing importance of this area, comprehensive data is needed in order to demonstrate that welfare and wellbeing are essential features of your sport and quantify the impact of support provided.
---
Key benefits
1. Increase levels of participation
Help recruit and retain participants in sports, teams, and clubs.
2. Enhance performance
Improving welfare and wellbeing support enhances sporting performance.
3. Illuminate best practice
Athletes can decide which teams to play for based on who can support their needs.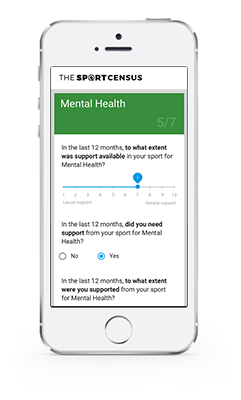 4. Promote trustworthiness
Trust attracts athletes and supporters to your sport.
5. Boost sustainability
Comprehensive data informs decision making.
---
What people are saying
Baroness Tanni Grey-Thompson
Sport offers so many opportunities but it has been shown that there is still much to do in the Duty of Care to those who are involved. To improve this requires an understanding of the current situation and The Sport Census allows this to take place from an independent perspective that also allows organisations to move forward in a very positive way.
The dedication that Professor Lavallee has shown in his continuing work is to be congratulated.
---
University of St Andrews
As our sporting offer continued to improve at the University of St Andrews, we had an increase in the number of elite athletes that we were seeking to support and an increase on the demands being placed on them. As such, we met with Prof David Lavallee to explore the work that he was doing around The Sport Census. Through conversations with David it became clear that his passion and expertise for the area of duty of care and the simplicity of the tool that he had created was such that we could gather data far beyond just our performance programmes. We therefore surveyed our entire cohort of sports clubs and their coaches quite simply because we could do so very easily. The tool itself is very simple and the survey takes only a couple of minutes to complete. Allied to the fact that it was clearly independent of St Andrews and anonymised, we enjoyed significant uptake in both years that we've conducted the survey so far. Out of that we have gained great insight into the seven key areas of duty of care, results which we can have great faith in....more
As with the tool itself, Prof Lavallee was then able to present the data to us in a very easily digestible format. The dashboards are a very clear representation of our current status in any given category or overall and for any given group or the respondents as a whole. As such, we were then quickly able to identify areas of particular focus where we wanted to improve or target some 'easy wins' to gather momentum around our work. As mentioned above, to then be able to repeat the same process on an annual basis gives us reliable data to measure the impact of our work and help us identify where next to focus our attention. It has certainly validated the work that we have introduced since the first survey, mental health became a significant focus and our engagement with Student Services and the provision of education and training has had a marked positive effect. A less tangible but no less significant impact, in my view, is that after two surveys students are more aware than ever that St Andrews view duty of care as part of our work. That is important for us while we try and create a safe, inclusive and welcoming environment for the entire diversity of our student population. Sport, physical activity and well-being have always been inextricably linked but I believe we have seen a benefit in being more explicit about how that informs our work through initiatives like The Sport Census.
It has been a fantastic initiative, which we are excited to continue for years to come. It is so easy to work with Prof Lavallee and to conduct the survey and interpret the data that we look forward to many years of data that demonstrate our positive work around duty of care.
---
Irish Football Association
The Irish FA Foundation partnered with Sports Census to get a baseline of how we were perceived by our stakeholders in a number of areas around safeguarding, mental health and wellbeing. We received great support and advice from David in setting up the questionnaire and engaging with our target audience. The results were very useful to help plan our next steps in these areas and to see where we need to focus our attentions.
---
---
Articles
The Solutions Journal: A 2-minute Solution
to Progressing Duty of Care in Sport
Duty of Care in Sport has not previously been defined outside of legal terminology and implications. However societal expectations on what duty of care means have grown beyond this and sports are being asked the question "How are you demonstrating your commitment to the care of all involved?"
Until now there has not existed a comprehensive framework to define the broader meaning of duty of care in sport or a means to measure it. In 2017, a United Kingdom Government review of duty of care in sport recommended that an independent survey was needed to give equal voice to all stakeholders in the system.
We created The Sport Census in response to this recommendation and to answer the questions: what does good duty of care mean in a sporting context and how can it be measured? The goal of The Sport Census is to provide sports with a quick and easy tool that can illuminate best practice and empower informed decision-making and proactivity through accurate data reported by relevant stakeholders....more
---
History
Developed by David Lavallee, the world's first Professor of Duty of Care in Sport. The Sport Census was created in 2018 as an easy-to-use solution to help sports show they are doing everything they can with regard to welfare and wellbeing and be even better in the future. Professor Lavallee is a graduate of Harvard University and has published extensively in the area of welfare and wellbeing in sport.
http://orcid.org/0000-0002-3829-293X
---